Industrial Electronic Services Limited

General Equipment Repairs
We have extensive experience in general electronic repairs for almost every type of equipment such as:
Amplifiers, Bar Code Readers, Interface Boards, Chargers, CNC Controls, Controllers, Converters, Counters, Displays, Encoders, Flow Meters, Input/Output Cards, PLCs, Pressure Regulators, Safety Light Guards, Soft Starts, Thyristor Units, Timers and UPS Units.
Typical manufacturers include: ABB, AEG, Asea, Astec, Baumuller, Bosch, Burket, Charmilles, Cincinnati, Contraves, Control Techniques, Danfoss, Digiplan, EMA, Eurotherm, Fanuc, Fata, Fuji, General Electric, Grundig, Guinard, Hitachi, Hohner, Honeywell, Indramat, Infranor, Jay, Landis, Leine & Linde, LJU, Mitsubishi, Norwin, Okuma, Omron, Philips, PKS, Reis, Reliance, Seidel, Sick, Siemens, Smart Scan, Sprint, SSD, Stromag, Telemecanique, Thorn,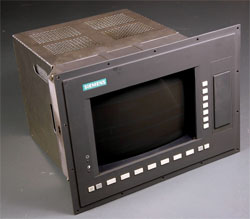 Toshiba, UBI, Yamabishi and Yaskawa.
If sufficient information is supplied to us with the item for repair, then the full functionality of the equipment can be tested. This enables us to guarantee that the equipment will be fully operational when it is returned, with a reduced repair turnaround time. A warranty is given from the date of delivery which covers the actual repair done on the item.
Servo Drive Repairs
IES repair a wide variety of servo drives, including AC servo, DC servo and stepper motor drives. All servo drive repairs are fully tested wherever possible.
Spindle Drive Repairs
A wide variety of spindle drives can be repaired, including AC spindle, DC spindle and HF spindle motor drives. All spindle drive repairs are fully tested wherever possible.
Inverter Drive Repairs
We can also repair a wide variety of inverter drives with power outputs from a few hundred watts to several tens of kilowatts. All inverter drive repairs are fully tested wherever possible.
Power Supply Repairs
All types of power supplies can be repaired including unregulated, linear, regulated and switched mode. All repaired power supplies are load tested to ensure correct operation in use.
Monitor Repairs
All types of monitor can be repaired, including mono, colour, TTL, analogue, LCD and gas plasma. Typically a warranty of 3 months on the actual repair is given with each monitor.
Re-Engineering
Many of the older industrial control systems today may be very difficult to service due to obsolete components. To replace these control systems can prove to be very costly in terms of both material costs, labour and down time. To avoid this we offer Re-Engineering as an alternative solution. We can re-engineer a wide variety of equipment, designed to meet your exact requirements. The Re-Engineered product can either match or improve upon the existing obsolete equipment's functionality. A Re-Engineering project can be approached in two different ways. New equipment can be designed and built ready to replace the obsolete equipment with identical board size, mounting, connections and functionality. Existing equipment can be modified to accept currently available components. The modified equipment can then be put back into service to provide continued operation in the future. In both cases down time is kept to a minimum and the equipment fitted will be easy to service.
Siemens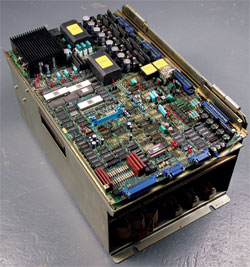 Industrial Electronic Services Limited has extensive experience in the repair of SIEMENS machine tool drives and controls. For a fast and high quality service we have invested in numerous drives and CNC controls to ensure that the full functionality of each repaired circuit board when returned, therefore reducing prolonged and expensive breakdowns. We operate a fixed price repair on a wide range of SIEMENS machine tool drives and controls spanning from the 1970's up to the present day including the following:-
AXIS DRIVES
DC 6RA21, 6RA25, 6RA26, 6RA40, 6RB20, 6RB21, 6RB26
AC 6SC60, 6SC610, 6SC611, 6SN 611, 6SL SINAMICS
SPINDLE DRIVES
DC 6RA21, 6RA22, 6RA24, 6RA25, 6RA26, 6RA27, 6RA29
AC 6SC650, 6SC660, 6SC690, 6SC611, 6SN 611, 6SL SINAMICS
INVERTER DRIVES
6SE MICRO/MIDI MASTER
6SE SIMOVERT
CNC 810, 820, 850, 880, SYSTEM 8, SYSTEM 3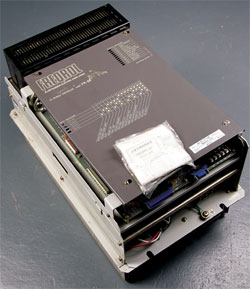 PLC 115, 130, 135, 150, 155
MISC. Encoders, Input/Output cards, Monitors & Power supplies
We also manufacture SYSTEM 8 displays to replace the obsolete gas plasma version.
SINAMICS S120 DRIVE UNITS
Please see :- www.sinamicsrepairs.com
Fanuc
We also repair a wide range of FANUC drives, including AC servo, DC servo, AC spindle and DC spindle, C-series, P-series, S-series and Alpha drives. We also repair all Fanuc power supplies and monitors.
Mitsubishi
We have vast experience in the repair of Mitsubishi machine tool equipment, including MRS and MDS servo drives, FR-SE and FR-SF spindle drives, the entire range of FREQROL inverters and all power supplies and monitors.
Industrial Electronic Services Limited
Unit 8L2, Maybrook Road, Maybrook Business Park, Minworth, Sutton Coldfield, B76 1AL, United Kingdom
t: +44(0) 121 351 7911 f: +44(0) 121 351 7912
e: sales@industrialelectronicservices.com
Registered in England and Wales No. 03484220